HURRY!!!!!!!!!!!!!!
Only four....I mean...TWO more Kits left!
The kit is called On Angel Wings and is debuting this weekend at The Paper Passion crop. PLEASE come and play with us. It's going to be GREAT!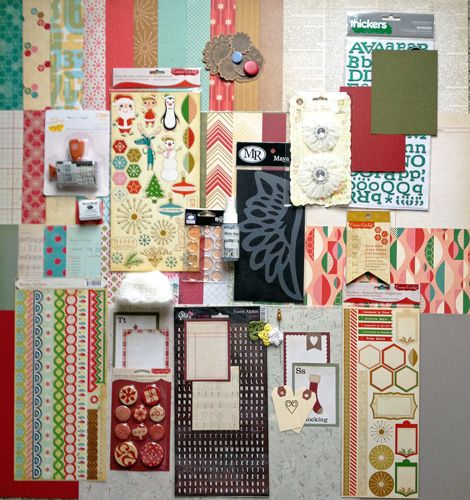 Patterned Papers

:
( 18 sheets-all double-sided):
- Cosmo Cricket "Jolly Days" (Twinkle; Tradition; Snowfall; Ornaments; Gifts; Candy Cane)
- Simple Stories "Handmade Holidays" (Music; Santa's List; Dictionary; Notebook)
- Lily Bee "Memorandum" (Office Blue; Payday; Boardroom; Cubicle)
- Prima "Madeline" (Beautima; Ste. Marie)
- Crate Paper - Inventory
- Studio Calico – Guess your Weight
C

ardstock

:
- 2 sheets Bazzill cardstock
- 2 pieces Core'dinations Cut 'n Emboss
Embellishments

:
- large sheet of handmade paper
- Glitz Teeny Alphas – Brown
- American Crafts "Reindeer" Thickers **colours may vary**
- Cosmo Cricket "Jolly Days" Ready Set Chip
- Maya Road "Angel Wing" Mask
- Cosmo Cricket "Jolly Days" Sticker Sheet
- Studio Calico "Mister Huey" Opaque Mist – Silver
- Cosmo Cricket "Jolly Days" Element Deck
- 6 x Simple Stories "Handmade Holiday" Cards
- Cosmo Cricket Elements Cheer Wooden Buttons
- Paper Valise Bronze Stick pin
- Amy Tangerine Roller Date Stamp
- Maya Road Chalk Ink (Leaf Green or Cloud White)
- 5 x Maya Road Kraft Doilies
- Crate Paper "Peppermint" border stickers
- 2 x shipping tags
- Making Memories heart shaped metal clip
- 2 x large Bazzill brads
- 1 yard Maya Road Soft Vintage Scallop Lace
You will love love Laci's kits from
The Paper Passion
!
Here are a few goodies I made with last months kit that sold out in a few days so get yours NOW!
First up is a fun bag of goodies...I LOVE love LOVE altering bags. These are just brown bags I get at Michaels for a a few bucks.
I thought the angle would work well on this card. I popped it up with some pop up dots.
And a layout....love the navy blue in the kit that Laci paired with the oranges and greens. If you have ever read Shel Silverstein's "the Giving Tree" book than this layout is for you. I got this photo a few weeks ago at a wedding and it totally reminded me of that book.
Fun little trinkets, too!